Offering a full range of strip mill products and services. Call Us today on +44 (0) 1384 486 600 to discuss your requirements.
Five-a-side Team Enjoy First Tournament
The newly formed Cooper and Jackson 5-a-side team took part in the Support Stan Charity 5-a-side tournament last Saturday.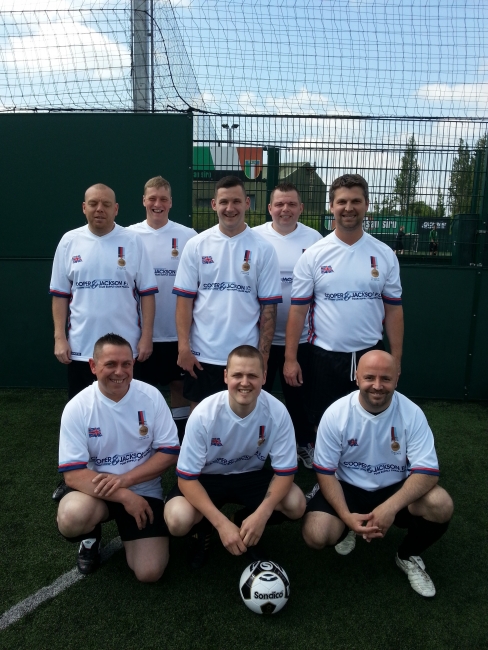 ABOVE: The team pictured in their new playing kit (Picture K. Edwards)
The event was organised by Goals Dudley to raise money for Cure Leukaemia. By all accounts it was an excellent day with the Cooper and Jackson side having an enjoyable first outing despite an ankle injury to captain Matt Collins. Results on the day were mixed with a record of Played 5, won 1, drawn 1, lost 3. The team had hoped for a few more wins but there was plenty to be positive about. Team member and Blanking Line Operator Steve Toogood said that it "was a great day...we will definitely look to enter more competions in the future. The tournaments eventual winners were @boingFC - Congratulations to them.
THe Team member Steve Toogood said that it "was a great day... we will definently be entering more competitions. Thet Team member Steve Toogood said that it "was a great day... we will definently be entering more competitions. Team member Steve Toogood said that it "was a great day... we will definently be entering more competitions. Team . . T