Offering a full range of strip mill products and services. Call Us today on +44 (0) 1384 486 600 to discuss your requirements.
A Word from our Commercial Director Simon Edwards
Our Commercial Director, Simon Edwards, reflects on 2020 and shares his thoughts on what 2021 has in store for us from a steel industry point of view.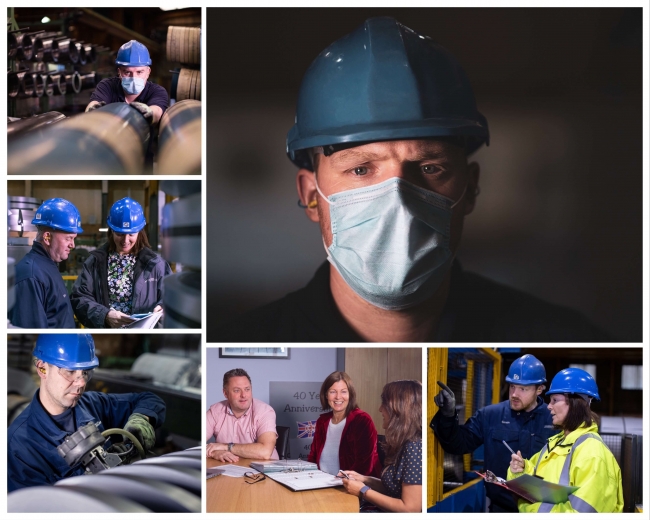 The photographs above certainly tell a tale. The majority of them were taken in January, before the world had fully awoken to the threat posed by Covid-19. Two of them were captured in the spring, as restrictions started to transform the way businesses had to operate. I'm sure you can guess which ones they are.
Even now, after months of mask wearing and social distancing, the changes that we have been required to make still strike me as unusual when I walk through our offices or visit the factory floor.
Nevertheless, the way in which the manufacturing sector adapted so quickly to the changing circumstances and worked so hard to provide vital equipment during the most intense phases of the pandemic, is a source of great pride to all of us I'm sure. As Alan Mulally, former president and CEO of the Ford Motor Company once said, " No country is ever successful in the long term...without a really strong and vibrant manufacturing base."

The UK's manufacturing base has more than proved its worth during this difficult year. It has once again demonstrated that it is of invaluable strategic importance to the welfare of the United Kingdom. Whilst there are still many challenges ahead, we remain optimistic about the future.

From a steel point of view, the final quarter of this year has seen an unexpected increase in demand for steel products - worldwide. Mills have been slow to bring capacity back after the initial lockdown restrictions were lifted and China, the worlds largest producer and consumer of steel, is currently a net importer. This, coupled with fewer imports arriving to the UK, has meant that steel supplies are restricted, and there are shortages of some products. Import quotas will also have an effect in 2021. Consequently, prices have risen considerably already and are expected to increase further - well into quarter 2.

Some are understandably nervous about longer term demand. Brexit uncertainty continues to be a source of concern but optimism about the Covid-19 vaccine and the desire for governments around the world to invest in infrastructure projects, as a means to kick start their economies, is likely to result in continued strong demand for steel.

Whatever 2020 brings, we can be sure that it won't be easy. However, if this year teaches us anything, it is that as an industry we are highly adaptable, creative and extremely resilient.